When Isabella Bird Bishop was declared an invalid in her 20s, doctors insisted she find a "change of air" to better her health. Her first thought: ship out. Over the next four decades, she visited the U.S., the Sandwich Islands (now called Hawaii), Canada, Scotland, Australia, Japan, Vietnam, Morocco, and more. Bishop went on to circle the world three times, becoming a celebrated author, journalist, explorer and missionary.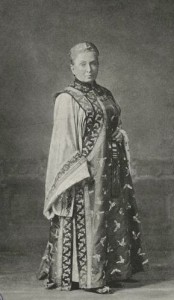 Born in England in 1831, Bishop was a very sickly child and prone throughout her life to illness. She was known to travel with a medicine chest to help nurse and cure her many ailments and those of whom she traveled alongside. When she was in her 20s, her father lent her money to travel to America and stay until the money ran out. In 1872, she left England for good, journeying to Australia (which she hated) and then the Sandwich Islands (which she loved and later wrote a book chronicling her stay there). Bishop began to write of her travels, penning letters to her sister Henrietta.
Hearing the air for was wonderful for the "infirm," Bishop moved on to Colorado, then the U.S.' newest state. Dressed in man's riding clothes and riding sidesaddle (scandalized, she later sued the Times for reporting this), Bird explored and covered more than 800 miles of the Rocky Mountains in 1873. These adventures became Bishop's fourth book, A Lady's Life in the Rocky Mountains.
Bishop slowed her traveling long enough to meet Dr. John Bishop, whom she married after her sister's death in 1880. After the wedding, she fell seriously ill and would not recover until after her husband's death six years later. Bishop took up studying medicine, being almost a qualified physician herself due to her familiarity with illness, disease, and her marriage to a doctor. She felt a need to bring medical aid to the less fortunate and the world's poor, and set off for India, Kurdistan, Turkey, and Persia, resolving to travel as a missionary.
Bishop described her medicine chest in her travel book, Journeys in Persia and Kurdistan: Volume 1 as a "beautiful medicine chest of the most compact and portable make…containing fifty small bottles of their invaluable 'tabloids,' a hypodermic syringe, and surgical instruments for simple cases," including quinine to treat malaria, bandages, and cotton. In her later years, Bishop wrote to challenge Western stereotypes of Eastern cultures, to critique the treatment of women in lower classes, and to present a vision of places not yet understood by much of Western society.
In 1904, forty years after she set out on her doctor-prescribed travels, Bishop died with her chest and trunk packed, ready to embark on a journey to China.